The hands of fate were at work long before Jack ever entered the picture. Gina met Jack's sister in law, Julie, in a yoga teacher-training program in Los Angeles. One day while in yoga class, Gina was venting to Julie about dating and all the difficulties she was experiencing. Julie was venting about a certain brother in law who was staying at her home while organizing his move to Los Angeles from France.  Moments later, Julie lit up with the idea that Gina should meet Jack.  Their yoga teacher, Claire, who also knew Jack, chimed in with support exclaiming how charming he was!  So, it was decided that they would all go out to dinner together in the coming weeks. Jack was such a gentleman, however, he went to meet Gina for coffee before the dinner to make sure it would be comfortable. So, their first meeting occurred at Starbucks after Gina taught a yoga class. She was intent on presenting herself as down to earth and arrived in yoga clothes with very little makeup. She waited nervously and then finally saw him walking up, dressed in a crisp white shirt, blue suede shoes, and matching blue sunglasses. He sweetly offered to buy her a drink.  Being from France, he was very confused by Starbuck's classifications of tall, grande, and venti… but the two made it to the table, drinks in hand. Gina says what stood out to her was his sincerity, kindness, and this feeling of wanting to know him more. Jack says the first think he recalled was her tight yoga pants.   He also said that the two hours they spent together felt like two minutes.
Their first kiss happened at a bar across the street from Gina's apartment. As Jack tells it, she literally lunged across the table and laid one on him… and from then on their story unfolded. Gina was also the first to say I love you while relaxing in Jack's brother's backyard after a family dinner. While Gina was responsible for many of their firsts, Jack was the one who boldly proposed.   Of course, she said yes.And that brings them to this beautiful day at the Copperwynd Resort in Phoenix.
Their friends and family surrounded them as they exchanged vows and became husband and wife.  The ceremony was officiated by Jack's sister (with a little help from his nephew).  After the ring exchange, guests dined outside surrounded by the gorgeous view and watched the sunset.  After dinner, they danced the night and enjoyed all their favorite people together in one place. Here are a few of my favorite images form their wedding day:  Enjoy!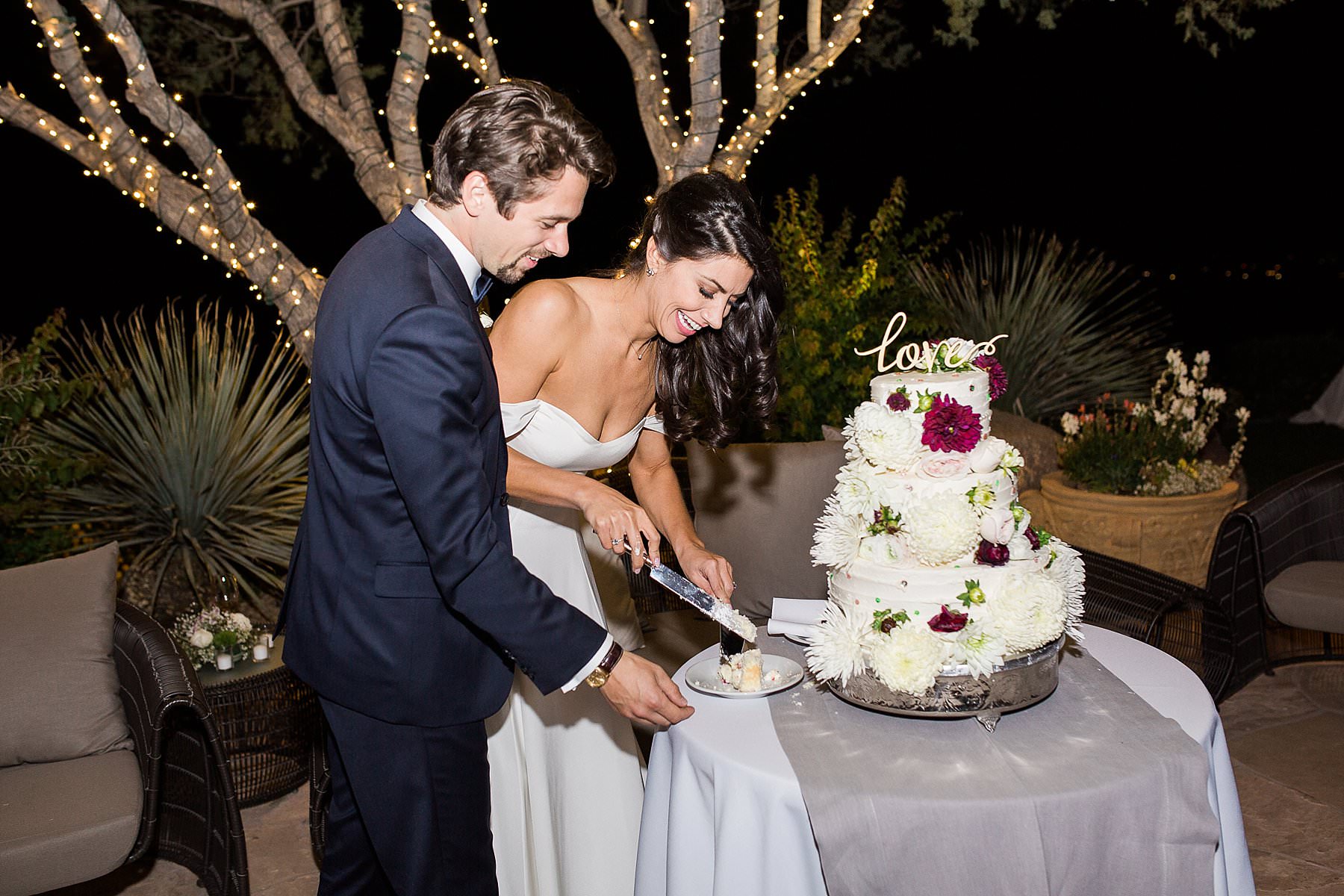 Bridesmaids Bouquets, Aisle and Wedding Arch Florals:  Kathy Long