Grace turned 6 this past weekend!  She is growing up right before our very eyes.  We had a small party by celebrating with a few of her close neighborhood friends.  The party theme this year was "Butterfly Fairies".  The theme was mostly due to her not being able to decide between a "Butterfly Party" and a "Fairy Party".  Decisions like that can be very difficult.  You make the wrong choice and you have to wait a whole entire year for your next party.   So, "Butterfly Fairies"  it was.  I found the huge  glittery butterflies while walking through a ROSS store a few months back.  They were a steal at $5 and $7, so I bought every single one they had.  I considered that a good investment with two little girls in the house.  I am sure you will see them used again at one of the girls parties in the future.  Possibly even on a  Halloween costume.
A big  THANKS to my mom for decorating the cake!  Grace was very involved in the party planning process this year.  Quite the opinion for a 6 year old.  She loved her little sister's birthday cake and wanted something similar.
The main party food: sugar.  Those are Rice Krispy treats made from Fruity Pebbles.  To quote a party guest, "You think a Rice Krispy treat can't get any better…and then it does!"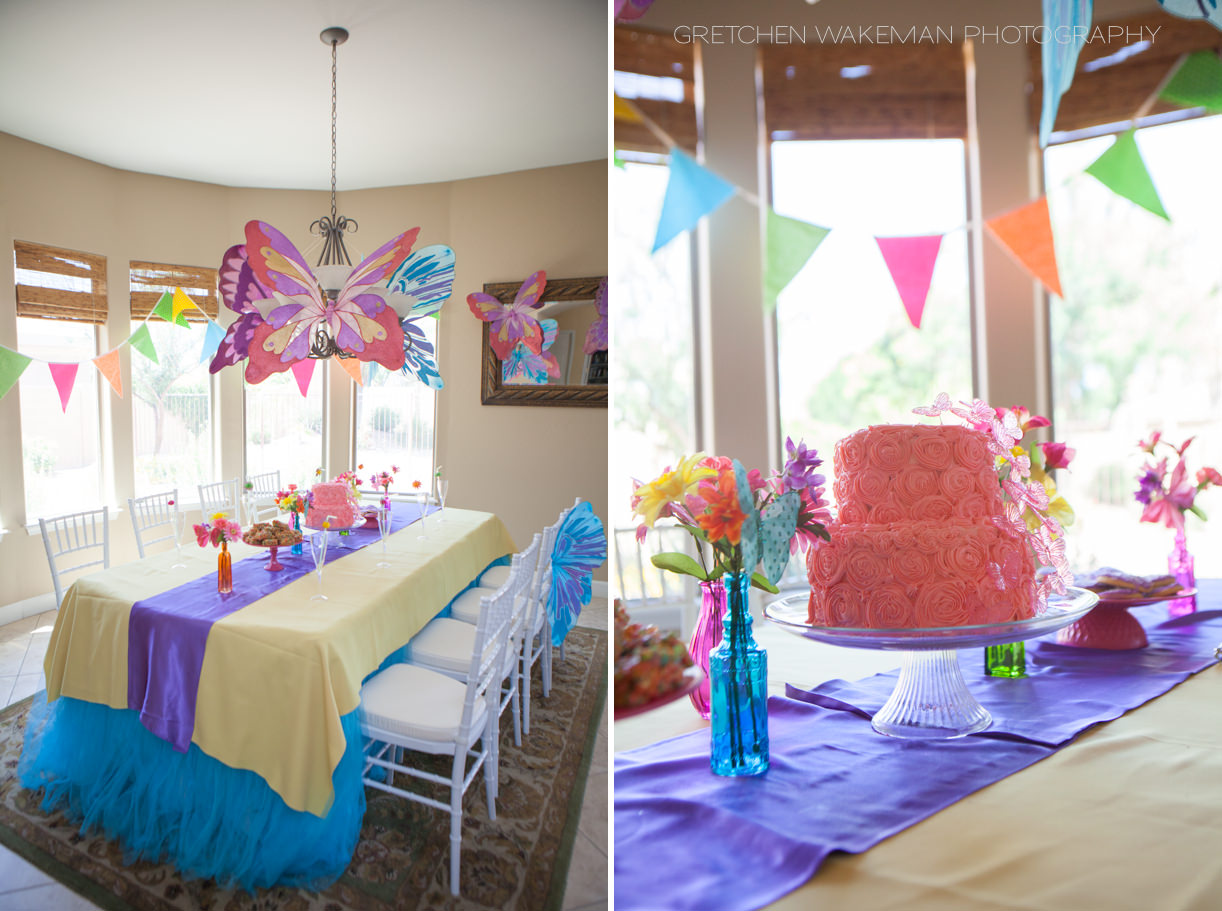 There was also a champagne "mommy" drink  🙂
The first task of the party was for the guests to make fairy skirts.   There was a large bin piled high with strips of tulle.  The girls were each fitted with a small elastic waistband and then all they had to do was tie the tulle onto their skirt.  Instant Fairy!I mean…"Butterfly Fairy".
A few shots of the party guests in their new skirts.
Then, it was time for CAKE!
Lots of girl time to play, color and giggle.  We had a great party and are blessed with such good friends for our daughter!  Thank you to all the friends and family that attended 🙂  You made her day very special.