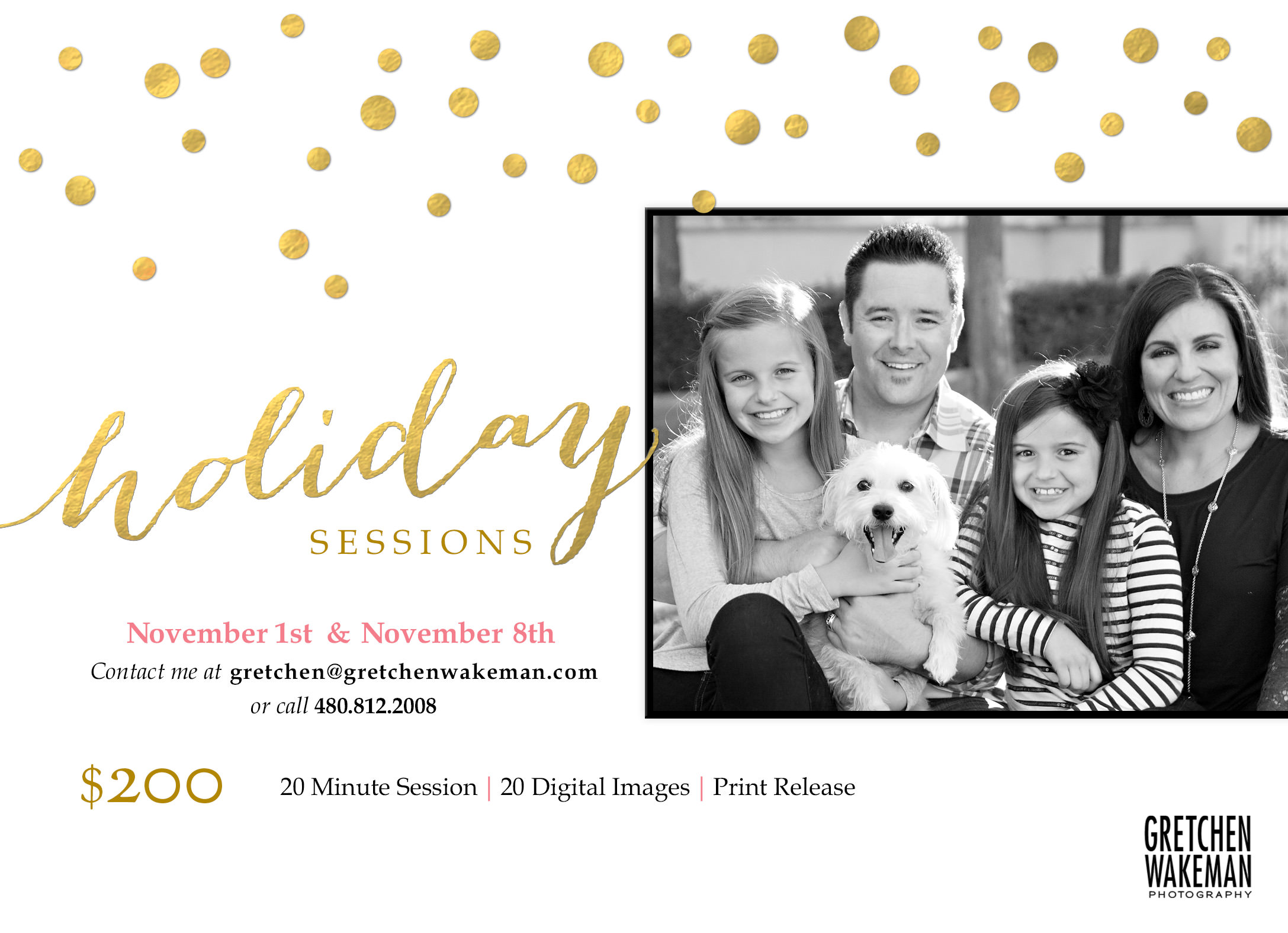 SESSION FEE • $200.00  ($100 deposit to hold your spot)
LIMITED SPOTS •  These are the only two weekends I will be doing mini-sessions this year.  When they sell out- they are GONE!  Full portrait session can be booked through the end of November.  Avaibility in December is limited to wedding clients only.
LOCATION • The sessions will take place near Central Phoenix.  Exact location and details will be emailed to all participating clients.  There will be options for both urban and  landscape backgrounds.
DETAILS • 20 minutes of shooting time to capture your family and individuals of children .  Final edited images will be posted to an online gallery to share with family and friends.  All images will be delivered via digital download.
A FEW MORE THINGS • Mini sessions move quickly so it's imperative you arrive a few minutes early (5-10) so that you and your family are ready to go. You are more then welcome to bring any small items that you want to incorporate. (Hats, candy canes, bubbles, wagons, etc.)  Mini Session are for FAMILY sessions only.  (Immediate family only, no extended family allowed)
SATURDAY NOVEMBER 1ST
3:00-3:20 PM BOOKED
3:30-3:50 PM  BOOKED
4:00-4:20PM BOOKED
4:30-4:50 PM  BOOKED
5:00-5:20 PM  BOOKED
SUNDAY NOVEMBER 9TH
3:00-3:20 PM BOOKED
3:30-3:50 PM  BOOKED
4:00-4:20PM BOOKED
4:30-4:50 PM  BOOKED
5:00-5:20 PM  BOOKED