It all started with an ad on Craigslist.  I am a big DIY-er and I also have a pretty good vision of what I want.  Pinterest does help.  I had been wanting a new office space for some time.  I had a design quote from Home Depot, a custom cabinet maker, and even IKEA.  I just couldn't seem to get exactly what I wanted from any of them.  My quotes from Home Depot and the cabinet maker were around $4000.  Neither of which included install.  The custom cabinet maker didn't even include painting.  I was getting a little frustrated and knew if I didn't start the project in January when I am typically not very busy- it would run into Spring wedding season and never get completed.  Then… one evening I found this ad on Craigslist.  The HUGE 1980's oak entertainment center that was 8′ tall.  We have 10′ ceilings… so I knew there was potential to make it work.  My husband went with me to take a look and with his excellent negotiating skills we walked away with a whole lotta 80's oak for $120.
I was only $120 into my office remodel budget so the first thing I did was hire a contractor.  His name is Mike, and he is the whole reason this office works.  I am happy to share his contact information with anyone local.  He does excellent work.  The first thing he did was listen to what I wanted.  He understood I had a vision and he made it happen.  The middle section of the original entertainment center was torn apart and broken down- but several of the pieces of wood were used in the new office.  The desktop work area is actually from the side of the original middle piece.  The most difficult part of the install was maximizing the 22″ of wall space that I had to work with.  The two side cabinets were installed on large braces that sit out from the back wall about 10″.  This minor but critical adjustment allowed me to have a desktop that was deep enough to actually work on.   Important detail in a home office.   It also required two new pieces of wood  to be added to the interior of both cabinets.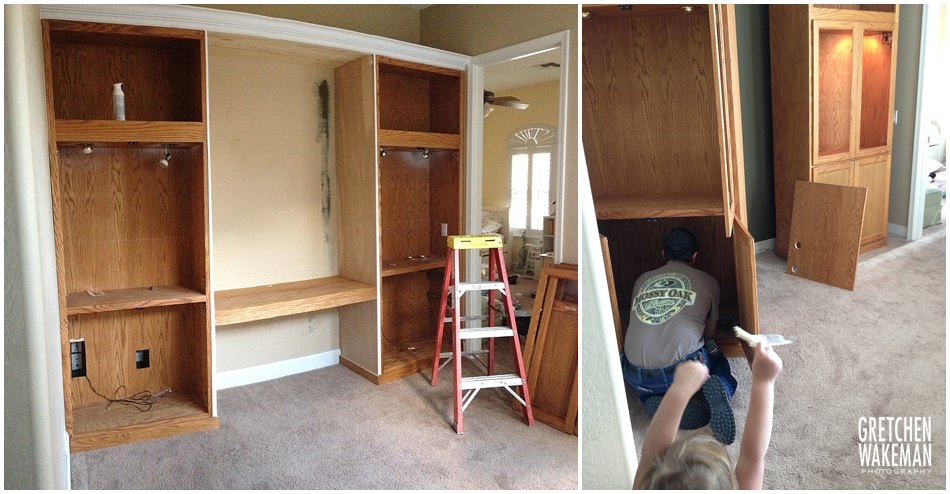 Here is the overview of the office space and client meeting area.  I love to meet with clients at my home to sign contracts, show wedding album samples, and occasionally do session proofing.
The window view from my office looks out to our front courtyard.  When the weather permits,  I get to edit photos to the relaxing sound of a fountain.
The two linen "lydia" dining chairs and round wood accent table were both purchased at Cost Plus World Market.

A couple copies of the current bridal magazines and a nice candle to drown out the fresh paint smell 🙂
The three vintage cameras were all finds from Ebay.  The random books were purchased at our local library used book store.  Books were chosen by color of cover and pages, not content 🙂
One of my favorite purchases was the rustic glass pendant lights from Pottery Barn.   The wall area behind the monitor was covered with a couple rolls of corkboard from JoAnn Fabrics .  The cork was adhered with a bottle of liquid nails and a caulking gun,  then topped with a large piece of burlap that I found a SAS Fabrics in Tempe. I  looked everywhere for burlap that was wide enough!   Then, I went to Home Depot and picked out molding to use as the frame.  The friendly Home Depot employee did the miter cutting for me.  I love that they will cut the materials for you as long as you have the dimensions!  Saved me an entire afternoon and probably a few bandaids 🙂
And we can't forget a cute shot of my office co-worker.  LuLu.  She is anxiously awaiting the next client arrival.